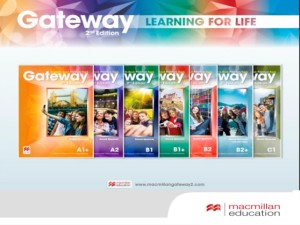 About
Learning for life
If you don't know Gateway already, this secondary course by teacher and author David Spencer is designed to lead teenage students to success in both international and school leaving exams. Each unit offers plenty of exam style activities and preparation tasks as well as Exam success tips.  The course is designed to prepare students for further study and future employment.
Gateway 2nd Edition retains many of the features that made Gateway so popular.
The approach to grammar and vocabulary and the development of the four skills is carefully staged and are both teacher- and student-friendly.
Gateway 2nd Edition also has several exciting new features!
The Flipped classroom videos bring grammar points from the Student's Book to life and help teachers find more time in lessons and add variety to their teaching. The videos are short grammar presentations that are linked to one of each unit's Grammar guides. Students can watch the presentation at home and complete tasks in the Online Workbook or printable worksheets on the Resource Centre. The videos are a flexible teaching tool and can also be used for revision, when students miss a class, or with the whole class in lesson-time, for variety.
At the heart of each unit there's a special Life skills section preparing teenagers for varied aspects of life.  Each Life skills area has its own tailor-made video featuring British teenagers, demonstrating the topic and ends with students performing a Life Task; an activity that has direct relevance to the students' lives outside the classroom.
Gateway 2nd Edition provides material which helps to develop other areas of knowledge, as well as English language skills. It offers brand-new, up-to-date texts to motivate teachers and their students. Reading texts include Critical thinking questions to get students reflecting on what they've just read and personalise the topic of the text.
Source : www.macmillangateway2.com